On Tuesday afternoon, just two years after terrorists from Halhul burnt Sifrei Kodesh in a shul in Givat Sorek, they returned to finish the job and set fire to the entire Shul, which burned together with all of the Sifrei Kodesh inside.
After the previous incident, security forces promised that they would investigate the incident and apprehend the culprits. However, no arrests were made, and some Israeli media sites have claimed that no investigation was undertaken at all.
The shul was badly damaged in the attack on Tuesday by terrorists who hail from the same Palestinian town in which the bodies of the three boys Eyal Yifrach HY"D, Gilad Shaar HY"D, Naftali Fraenkel HY"D, were found. Halhul has become an infamous breeding ground for terrorists who have committed attacks on Israelis in and around the Gush Etzion area. The terrorists threw molotov cocktails at the shul and it is believed that they also used an additional accelerant.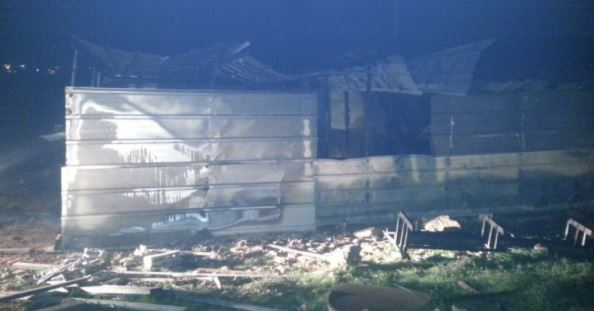 Residents told 0404 news site that: "This is due to the lackadaisical a ttitude of the police and Defense Minister Avigdor Lieberman, who let the terrorists get away with incident last time. This time they ended up with the entire shul burnt down. Even though the terrorists came from Halhul, those who are to blame for today's attack are the Israeli government, the Defense Ministry and the Police."
Emergency medical service personnel from Magen David Adom and United Hatzalah who arrived at the scene reported that Baruch Hashem there were no injuries in the blaze.
(YWN Israel Desk – Jerusalem)